---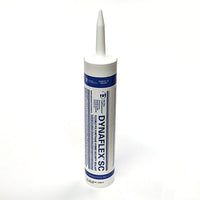 Sale
Product Description
Pecora DynaFlex SC Flexible Polyurethane Security Sealant - 10.1 Fluid Ounce Cartridge
Pecora Dynaflex SC is a unique one part, non-sag, tamper resistant elastomeric STPU (silyl-terminated polyurethane) joint sealant with many of the strengths of two-component security sealants but with the user-friendly ease-of-application properties of a one-component sealant. Pecora Dynaflex SC is designed to achieve high tensile and tear strengths, abrasion resistance and an average ultimate hardness of at least 55, yet still withstand 25% total joint movement. As a result, this rugged yet flexible sealant is ideally suited for use in institutional and correctional complex security installations but performs equally well in other public buildings and facilities where ordinary sealants are easily damaged or torn out by idle tampering and acts of vandalism. Dynaflex SC not only is more flexible than epoxy in composition but also satisfies the concerns for color coordination. It is available in two standard colors, limestone and tru-white, and can be painted to blend with adjacent surfaces.

Applications

interior expansion and control joints
window and door perimeter joints
protrusions and penetrations
vents
around fixtures and in other interior joints or openings of any kind (masonry-to-masonry, masonry-to-metal, or metal-to-metal) requiring a sealant.
polycarbonate sheets for interior security glazing (priming is required).

Limitations

not to be used in active joints experiencing movement greater than 12 1/2% in compression or extension.
not to be used in areas where it may be subjected to harsh chemicals such as acids, strong alkalis, ketones, etc.