---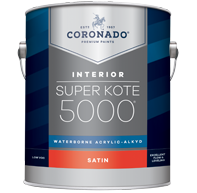 Sale
Product Description
Details
Available Colors: White. Tint bases available for all colors
Sheen (or Gloss): Satin
Cleanup: Soap and Water
Resin Type: Acrylic / Waterborne Alkyd
Recommended Use: Interior
MPI Rating:
VOC Level: 44.0
When Advance Satin is not available, this is a good substitute.
Features
Super Kote 5000® Waterborne Acrylic-Alkyd delivers the desired flow and leveling characteristics of conventional alkyd paints while also providing a tough satin or semi-gloss finish that stands up to repeated washing.
Smooth, durable finish
Exceptional flow and leveling
Easy application
Outstanding adhesion
Excellent hide
Withstands repeated washings
Data Sheets
SDS
TDS
23906364090
23906364106
Available Color Collections