---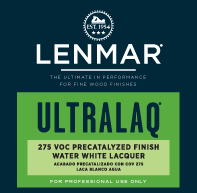 Product Description
DISCONTINUED - CALL OR CHAT AHEAD, WE MAY HAVE A COUPLE STILL IN STOCK.
Details
Available Colors: Clear
Sheen (or Gloss): Satin
Cleanup: Solvent
Resin Type: Nitrocellulose
Recommended Use: Interior
MPI Rating:
VOC Level: 261.5
Features
This clear lacquer system uses advanced formulating technology to produce a superior finish over other types of conventional nitrocellulose lacquers. These precatalyzed, cross-linked, nitrocellulose lacquers (amino alkyd) are low in formaldehyde and contain no aromatic solvents. These high-build, fast-drying lacquers produce an exceptionally tough and durable finish. They can also be used as a self-sealing finish.
High-build
Fast-drying
Ready-to-spray formula
Shelf-stable for 12 months
Stain-resistant
Data Sheets
SDS
TDS
821154071667
821154071674